Great Products For Your Waterfront

Need Help Finding The Right, Product For Your Lakefront?
Are you Ready for Summer?
Shopping Cart
Your shopping cart is currently empty.
Need Help Finding The Right, Product For Your Lakefront?
Are you Ready for Summer?
Boat Lifts, Docks, Repairs Parts and Accessories!

Boat Lifts, Docks, Repairs Parts and Accessories!
OVERVIEW
THE HYDROSWEEP™ WATER AGITATOR
The HydroSweep™ and HydroSweep™ Pro are Agitators, Bubblers or Aquatic Current Devices that improve water conditions naturally through oxygenation, controlling algae, aquatic vegetation and odors while still maintaining waterfront and wildlife health. The motorized action of the HydroSweep™ is effective up to 50 feet or more and is ideal for managing decaying debris and floating algae. The dock mounted design is perfect for allowing water level adjustments and circulating water throughout your entire waterfront. The unit also works as a deicer in the winter months to help protect docks and lifts that are left year round.
KEY BENEFITS
Rids Shorelines of Stagnant Water
Deters Invasive Species
Reduces Swimmers Itch
Reduces Algae
Controls Trash and Decaying Debris
Ice Control During Winter Months
Aeration and current are essential to keeping a healthy waterfront, as it reduces algae, minimizes insects, eliminates odor problems, and helps to create a healthy home for aquaculture by preventing stratification where sediments pose an issue.
KEY FEATURES
Adjustability of 0 to 360° at 1° Increment
Dual Oscillating Speed Control
1 HP Motor with 1400 Gallons / Minute Flow
ECO-MODE Setting (cuts power consumption by half)
Agitator or Deicer
Microprocessor Controlled
Obstruction Sensing
6ft Adjustment Pole
Twin Blade Prop
3 Year Warranty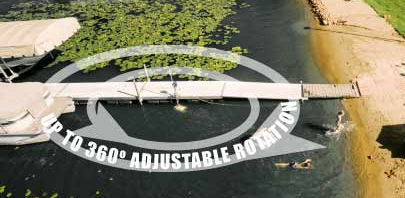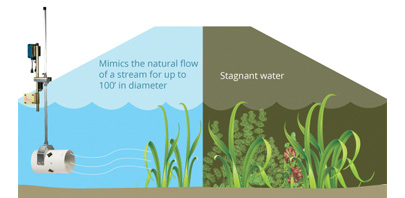 ENHANCE YOUR NATURAL ENVIRONMENT
HydroSweep™ has worked closely with the Department of Natural Resources to ensure that the HydroSweep™ Lite and HydroSweep™ Pro remains an effective way to maintain waterfront and wildlife health by mimicking the natural movements of lakes, rivers, and streams. The unit is designed to help preserve your waterfront while maintaining naturally-occurring aquatic life.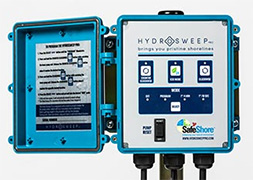 HYDROSWEEP CONTROLS - The HydroSweep™ Pro is a fully programmable system that allows you to control the direction of the 1400 gallons of water that it pumps through every minute. The unit can be programmed within 5 minutes to stop between any two desired locations between 1° and 360° to maximize your control of the dock area.

HydroSweep™ recommends that a minimum of a 15-amp/120-volt circuit is available at the shoreline. For your safety, this circuit must also be equipped with a ground fault circuit interrupter (GFCI) and should be properly installed by a licensed electrician.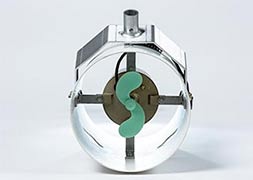 EFFECTIVE RANGE - The effective range of this unit is estimated based on a number of variables. Performance may be reduced in deeper water, areas with steep drop-offs and obstructions like dock supports and boat lifts. Either unit should always be powered off if swimmers are nearby.

The high volume of water movement is nearly three times that of other similar devices. Extensive testing has confirmed an average effective agitation range up to 50 feet in all directions or a 100ft diameter with none of the above obstructions. It is recommended that the unit be installed 12 inches off the lake bottom to produce optimal results and maximize performance.
DO I NEED A PERMIT?
You will not need a permit. The HydroSweep™ and HydroSweep™ Pro
is legal for use and purchase in all 50 states and Canada. Some states have regulations that make it unlawful to hydraulically excavate and forcefully uproot muck and vegetation. Setting the pump too close to the bottom of the body of water may have an adverse impact on the shoreline and aquatic life, which may be illegal in some jurisdictions including Minnesota. You should check with your local ordinances regarding any limitations on use. This is not a muck blaster and should not be used as one.
ADDITIONAL INFORMATION
THERE IS A SERIOUS RISK OF ELECTRIC SHOCK IF THE HYDROSWEEP IS NOT PROPERLY ASSEMBLED, HANDLED OR INSTALLED. WE RECOMMEND THAT YOU USE A LICENSED ELECTRICIAN. UNIT MUST BE CONNECTED TO A GFCI (15 OR 20 AMP) CIRCUIT. PLEASE READ AND FOLLOW INCLUDED INSTRUCTIONS CAREFULLY.
SPECIFICATIONS
Manufacturer:
SafeShore
SKU:
HydroSweepPro
Shipping
Typically Ships:
2- 5 Business Days
Shipping Method:
UPS/FedEx
Applications
Mounting:
Dock Mount
Application:
Water Cleaning
Support Spec
Angle Adjustability:
1&deg, to 360&deg
Warranty
Warranty:
3 Year Limited
Quick Info
Item Type:
Water Agitator
Accessory Type:
Water Agitator / Current Device
Assembly Required:
Yes
REVIEWS
FAQ
You May Also Like These Items

1657 12th Street - Martin, MI 49070
Phone: 866-942-6349
Fax: 866-942-6349
E-Mail: info@boatliftanddock.com
Get Our Latest Product Updates and Offers!
© 2008 - 2018 BoatLiftandDock.com | All Rights Reserved