Great Products For Your Waterfront

Need Help Finding The Right, Product For Your Lakefront?
Are you Ready for Summer?
Shopping Cart
Your shopping cart is currently empty.
Need Help Finding The Right, Product For Your Lakefront?
Are you Ready for Summer?
Boat Lifts, Docks, Repairs Parts and Accessories!

Boat Lifts, Docks, Repairs Parts and Accessories!
OVERVIEW
MINI MAG 800 DOCK MOUNT JET SKI LIFT
The Mini Mag 800 Jet Ski Lifts by Magnum Boat Lifts has been designed as a user-friendly solution for storing your jet ski without ropes, cleats or a trailer. The Mini Mag uses forklift style arms with carpeted hull bunks to raise and lower your watercraft and its low profile design makes this lift very attractive. The unit can be Mounted to a Piling or Attached to seawall using the Seawall Attaching Bracket.
KEY FEATURES
800 lb Lifting Capacity
3' Arm Length (4' available also- Choose from list Above)
6' to 10' Lift Travel
5' Carpeted Wood Hull Bunks
4' PVC Post Guides
Galvanized Steel Construction
Galvanized Steel Fasteners
Attaches to 8" Round / 6" x 6" Square Piling or Larger OR a seawall using Seawall Attaching Bracket
Manual or Electric Operation
Polypropylene Track Rollers
Stainless Steel Cable
2 Year Mechanical and 5 Year Structural Limited Warranty
The Mini Mag's track is secured to a piling with supplied galvanized steel mounting hardware. This track is what determines the amount of lift height the lift will provide. The track comes in 8' which provides 6' of lift height, 10' which provides 8' of lift height or 12' which provides 10' of lift height. It is not necessary for the track to extend to the lake bottom in deep water. The lift''s carriage travels through the track and raises and lowers with the use of a manual or electric winch. The manual option uses a Dutton Lainson DL800 winch. The Electric option uses an AMS 1000 with Cover.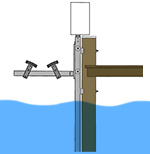 Piling Mount Configuration - The lift comes standard with hardware to mount the unit to an 8" Round or 6' x 6' Square piling or larger. The piling must be securely anchored to a seawall or integrated into a dock. Two 5/8" carriage bolts are installed through the piling.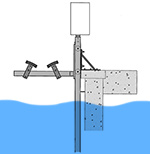 Seawall Mount - If the seawall mount option is selected, a Seawall Mount Base will be included with the unit. This bracket is anchored to the top of the seawall in 7 places and attaches to the track in two places.
This unit can also be made to rotate when in the raised position. This is an OPTIONAL upgrade. Once in the fully raised position, two locking pins on one side is removed and the unit pivots using the other side of the attaching bracket.
AVAILABLE ACCESSORIES
Flat Seawall Bracket or Bulkhead Optional Mount
Stainless Steel Track Upgrade (choose from the list above)
Motor either A/C or 12V D/C
ADDITIONAL INFORMATION
Ships direct from the manufacturer
Ships out in 3 - 7 business days and is then picked up by a freight carrier for delivery.
DC Motor option adds 3 days to shipping times.
Tracking information will be provided via email when the shipper catalogs the pick-up.
You can estimate your freight shipping charges by adding the item to your cart and entering your zip code into the shipping calculator.
SPECIFICATIONS
Manufacturer:
Magnum Lifts
SKU:
MINIMAG800
Base Group
Product MPN:
MiniMag800
Shipping Information
Typically Ships:
3-7 Business Days
Shipping Method:
LTL Freight
General
Load Capacity:
800
Model:
MiniMag 800
Item Type:
Lift - Dock Mount
Assembly Required:
Yes
Frame Specs
Lift Cradle Travel:
6' to 10'
Hull Bunk Type:
Carpeted Lumber
Hull Bunk Length:
6
Cradle Style:
3' Arms that are 2' Apart - Optional 4' or 5' arms
Frame Material:
Galvanized Steel
Winch Specs
Winch:
Manual or Electric
Motor Type:
AC 110v AMS 1000 with Cover if electric winch option is chosen
Cable Specs
Cable Diameter:
1/4
Cable Material:
Stainless Steel
Application Suggestions
Anchoring Type:
Dock or Piling Mount
Watercraft Weight (Wet):
500 - 800
Piling Size:
8"
Return Policy
Restocking Fee:
Yes
Return for refund within::
30
Return for replacement within::
30
Warranty Information
Warranty:
2 Year Mechanical and 5 Year on Gearing and Structural Components
Lift Design
Watercraft Style:
Kayak, PWC
Lift Design:
Dock Mount, Electric, Manual, Piling, PWC, Vertical
Manufacturer Details
Product Manual:
View Mini Mag 800 Product Manual
REVIEWS
FAQ
You May Also Like These Items

1657 12th Street - Martin, MI 49070
Phone: 866-942-6349
Fax: 866-942-6349
E-Mail: info@boatliftanddock.com
Get Our Latest Product Updates and Offers!
© 2008 - 2018 BoatLiftandDock.com | All Rights Reserved