Great Products For Your Waterfront

Need Help Finding The Right, Product For Your Lakefront?
Are you Ready for Summer?
Shopping Cart
Your shopping cart is currently empty.
Need Help Finding The Right, Product For Your Lakefront?
Are you Ready for Summer?
Boat Lifts, Docks, Repairs Parts and Accessories!

Boat Lifts, Docks, Repairs Parts and Accessories!
OVERVIEW
CRAFTLANDER MH-V25108 2,500lb CAPACITY VERTICAL MANUAL BOAT LIFT
Reliable and well designed vertical lifts by CraftLander offer many of the same features found in more expensive brand lines. The heavy-duty bolt-together aluminum construction provides superior environmental endurance and eliminates the need for aluminum welds while adding to the strength and stability of the lift. CraftLander lifts are easier to crank than most lifts on the market today due to their patented "Positive Drive Winch" that is chain driven with roller bearings. In contrast to many other lift brands that install generic third-party winches, CraftLander is one of the very few manufacturers that custom designs their vertical lift winch assemblies for their lifts. The 2,500 lb models have an 11:1 winch (22 turns or the wheel to 1 complete revolution of the drum) and raises about 1 inch every 2 turns of the wheel.
Craftlander''s MH-V25108-SS is well suited for most single hull watercraft's with a loaded weight between 1200lbs - 2400lbs. With a 108" inside opening it is suggested that this lift is used with boats that have a beam measurement less than 96".
This boat lift can be custom configured for a wide variety of watercraft hull styles. Whether you need a lift for your fishing boat, ski boat, or pontoon, CraftLander offers hull support kits for all styles. Above you are able to custom configure this hoist to your specific needs.
MH-V25108-SS KEY FEATURES
2,500lb Max Lifting Capacity
108" Max Beam (inside width - upright to upright)
I-Beam Aluminum Lifting Platform
Positive Drive Winch Assembly
55" Lift Height (actual cradle travel)
Stainless Steel Lift Cables
Drop V Side Frame for Easy Boat Entry
This lift has been designed to be used in low and fluctuating water levels. The 55" lift height gives you a lot of cradle travel to work with and keeps you from having to move the lift to shallow or deeper water. The large tapered pads or feet on this unit allow it to be moved across many different surfaces and lake bottoms without snagging or digging in. This is very helpful for seasonal installation and removal.
BUILD YOUR HOIST PACKAGE
This CraftLander Hoist can be equipped for a variety of watercraft styles and a spectrum of lakefront conditions. With a wide variety of equipment accessories, the unit can be configured to suit your needs. While choosing your hoist configuration, please review the following options that this unit can be configured with. These options are selected above and allow you to configure the new hoist to your needs.
This section provides a description of the various options that you can have this hoist equipped with. These options are selected above the "Add to Cart" button, which allows you to build the configuration that you want.
EXTENSION LEG OPTIONS
Freestanding Lifts such as this model utilize four, independently adjustable legs which are inserted into the corner columns of the hoist. When installed they allow you to adjust the height of the lift at each of the corners so that you can achieve a level plane across the hoist. Attached to each leg is a large base pad that will rest on the lake bottom.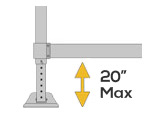 STANDARD LEG - standard legs extensions included are 30" legs, featuring a large foot pad for stability and locking pins for height adjustment these legs assure proper installation in a variety of water depths up to 5 feet.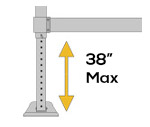 54" EXTENSION LEGS - the 54" legs (overall length) that provide 38" of usable height. The leg uses a large foot pad for stability and hitch pins for height adjustment. This telescoping design allows for proper installation in a variety of water depths up to 6.5 feet deep.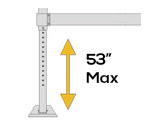 DEEP WATER LEGS - Longer adjustable 72" leg extensions available for deeper water, featuring a large foot pad for stability and locking pins for height adjustment these legs assure proper installation in a variety of water depths up to 8 feet.
BOAT SUPPORT OPTIONS
This hoist can be equipped with a variety of support hardware options. The following options are designed for particular watercraft hull designs. Boat Support options include complete hardware kits that are mounted to the moving cradle of the lift and are contact and support your boat.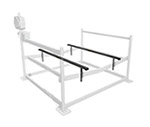 STANDARD 10' VINYL/ALUMINUM BUNKS - This configuration is well suited for single hull designs including flat bottom, round bottom, and shallow-V hull designs. The Vinyl/Aluminum Bunk includes two individual aluminum extrusion bunk rails covered with a non-abrasive vinyl. These Bunks are maintenance free and do not trap lake sediment like older style carpeted lumber bunks.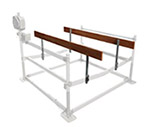 PONTOON RACK – This configuration is typically used on Pontoons and in some cases with Tritoon boat designs. One of the most traditional systems used, the pontoon rack includes four vertical cradle mounted bracket assemblies. Once installed lumber boards are attached to the bracket assemblies which then act as a support surface your boat's under-deck. Pontoon rack systems such as this have been widely used for a number of years due to the basic design and user-friendliness.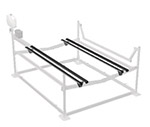 DUAL 10' VINYL/ALUMINUM BUNKS - This configuration is well suited for Pontoon, Dual PWC's and some cathedral hull designs. The Dual Vinyl Aluminum Bunk kit includes two sets of aluminum extrusions bunk rails covered with a non-abrasive vinyl. The Vinyl/Aluminum Bunks are maintenance free and do not trap lake sediment like older style carpeted lumber bunks. When installed, each set of bunks are located to the exterior of the cradle and are designed to support the underside of toons.
LOADING GUIDE OPTIONS
Loading guides are optional accessories that can be added to your lift at any time. They are highly recommended for those in rough and windy areas or for inexperienced drivers. They are designed to assist with leaving and parking your boat, by providing a "guide" aid to keep you centrally located within the hoist frame.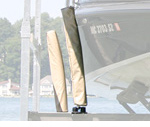 FOAM POST CENTERING GUIDE - One of the most traditional centering guides, these are mounted at the four corners of the lifting platform this centering device provides four soft uprights posts that assist with keeping your watercraft centered on the hoist. Foam Post Guides are available in a set of two or four guides and are safe for virtually any watercraft style.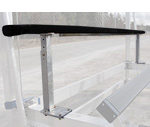 FULL LENGTH CARPETED SIDE GUIDES - Carpeted loading/centering guides consists of four heavy duty aluminum upright brackets that attach to the I-Beam of the hoist, of which support a carpeted lumber rails with steel reinforcement backer plates that span the full length of the hoist on both interior sides. The carpeted rails act as a centering guide for positioning on the hoist safely. This guide option is not recommended for watercraft with side hull decals. This guide if it comes in contact with decal stickers will cause damage to the decal.
BOAT STOP OPTIONS
Motor Stops are another optional style of parking aid that are designed to help with parking a watercraft. Motor Stops help prevent "overshooting" the parking location. The Motor stop are not suitable for Wake and Ski Style watercraft with drive shaft prop and rudders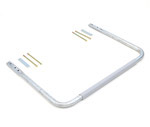 MOTOR STOP - Mounted to the stern end rack beam and assists with stopping your watercraft and prevents your boat from overrunning the lift.
ADDITIONAL INFORMATION
Ships out in 10 - 14 business days and is then picked up by a freight carrier for delivery.
Tracking information will be provided via email when the shipper catalogs the pick-up.
This product requires LTL freight delivery or local pickup from our location. Product assembly is required. It is recommended that this unit is assembled by experienced contractors or those experienced in boat hoist assembly and installation. Improper assembly and maintenance may void factory warranties. It is important to review and examine all assembly/use instruction guides prior to operation. Assembly instructions and lift diagrams can be found under the "Spec" tab located at the top of this page.
SPECIFICATIONS
Manufacturer:
CraftLander
SKU:
CL-MH-V25108
Shipping Information
Typically Ships:
10 to 14 Business Days
Shipping Method:
LTL Freight
Base Group
Product MPN:
MH-V25108
General
Load Capacity:
2,500
Model:
MH-V25108
Item Type:
Lift - Freestanding
Assembly Required:
Yes
Frame Specs
Inside Opening:
108
Lift Cradle Travel:
55
Adjustable Leg Size:
30, 54 or 72
Hull Bunk Type:
Aluminum/Vinyl
Hull Bunk Length:
10
Cradle Style:
I-Beam
Frame Material:
Aluminum
Fasteners:
Zinc Plated Steel
Foot Pad Size:
12x16
Winch Specs
Wheel Size:
42
Motor Type:
Optional
Cable Specs
Cable Diameter:
5/16
Cable Material:
Galvanized Steel
Application Suggestions
MinWaterDepth:
Draft + 7"
MaxWaterDepth:
5 ft with Standard Legs and 8 ft Deep Water Legs
Watercraft Weight (Wet):
1,200 - 1,500, 1,500 - 2,000, 2,000 - 2,400
Lift Design
Operation:
Manual
Watercraft Style:
Single Hull, Pontoon, PWC
Lift Design:
Freestanding, Manual, Vertical
Return Policy
Restocking Fee:
Yes
Warranty Information
Warranty:
2 Year Mechanical and 15 Year Structure
Manufacturer Details
Manufacturer Website:
Manufacturer Website
Manufacturer Support Phone::
989-275-8054
Product Manual:
View Product Manual
REVIEWS
FAQ
You May Also Like These Items

1657 12th Street - Martin, MI 49070
Phone: 866-942-6349
Fax: 866-942-6349
E-Mail: info@boatliftanddock.com
Get Our Latest Product Updates and Offers!
© 2008 - 2018 BoatLiftandDock.com | All Rights Reserved