Great Products For Your Waterfront

Need Help Finding The Right, Product For Your Lakefront?
Are you Ready for Summer?
Shopping Cart
Your shopping cart is currently empty.
Need Help Finding The Right, Product For Your Lakefront?
Are you Ready for Summer?
Boat Lifts, Docks, Repairs Parts and Accessories!

Boat Lifts, Docks, Repairs Parts and Accessories!
OVERVIEW
OPEN BOX: ShoreStation 22' x 108" aftermarket WeatherMax replacement boat lift canopy cover is designed specfically to fit existing ShoreStation 22' x 108" aluminum canopy frames. Each comes complete with canopy frame cover, attaching hardware and storage bag.
Weather Max™ fabric combines strength, beauty, and water repellency in a lightweight, durable construction. Featuring solution-dyed SaturaMax yarn and the innovative HydroMax finish; is the latest and most advanced canopy fabric on the market. WeatherMax canopies are extremely UV and fade resistant. It offers a very light weight construction that is both abrasion resistant and breathable. Due to the material it also cleans easily with mild detergent without bleeding. Weather Max canopies outperform many acrylic materials such as Sunbrella, Outdura, Recacril in many key attributes.
Utilizing breakthrough UV technology, WeatherMax not only goes the distance with the long term color retention, but reaches far beyond for superior water resistance and durability. With engineered yarn memory, WeatherMax always maintains a sophisticated appearance and never exhibits unsightly sagging from age, rain or exposure. The Hydromax finish means no coatings for a cleaner environment and an excellent breathable fabric, for outstanding mold & mildew resistance. WeatherMax out-performs acrylic brand materials and "solution dyed polyesters" in color retention and abrasion resistance. Welded seams take the place of sewn seams. The lightweight 8 oz per yard makes WeatherMax easy to install, a mere 1/3 of the weight of standard vinyl material, yet durable and long lasting.
COVER DETAILS
Includes 8oz WeatherMax lift canopy cover and attachment hardware (canopy frame not included)

Quiklash reinforced lacing canopy attachment system eliminates grommets, 25% stronger than traditional grommet system

Quiklash webbing features UV and Mildew resistance for longer-lasting durability and strength

Hot air rotary heat sealed and welded 1" overlapped seams on top panels and 1/2" on canopy ends

Coats Dabond bonded and twisted continuous filament polyester threading with high UV and water resistance

Includes 5-year limited manufacturer's warranty
WeatherMax Available Colors
WeatherMax canopy covers are available in twelve colors. Below are color samples of the available colors Taupe, Forest, Yellow, Sand, Black, Light Charcoal, Burgundy, Scarlet Red, Pacific Blue, Captain Navy, Sapphire and Forest Tweed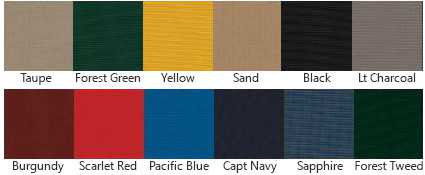 QUIKLASH CANOPY ATTACHMENT SYSTEM
The Quiklash canopy attachment system provides a user friendly and easy to install design with increased strength and durability over traditional attachment systems. Sewn into the interior of the cover, Quiklash is a fabric strip with reinforced lacing holes to eliminate the need of grommets to secure the canopy. The Quiklash webbing is reinforced with Armor Bar, a high-tenacity polyester yarn which provides increased tear resistance and strength.
The 2-1/8" wide Quiklash webbing allows for quick and customizable installation with 1" lacing holes spaced every 3". Canopy cover is secured utilizing the Quiklash webbing and supplied bungees. The 1/4" stretchable, nylon covered rubber bungees connect to any of the 1" lacing holes and then secured to each specified attachment point on the existing canopy frame. Once all bungees have been installed even tension is created around the perimeter of the canopy frame keeping the cover secure and in place on the frame.
SHORESTATION CANOPY FRAME MEASURING ASSISTANCE
Below we have provided an image that illustrates how to measure your canopy frame in order to determine the proper size cover. ShoreStation aluminum canopy frames will have 4" round aluminum side frame tubes that extend from front to back of the frame. Inserted into the ends of the side frame tube is a bracket that secures two canopy bows to create the canopy ends. The frame will have a rounded peak top created by rounded canopy bows that are connected on each end to the 4" round side frame tube. When measuring the length, please note that you must measure the length of the 4" canopy frame side tube and then add two feet to that measurement. The length of the side tube plus two feet equals the proper canopy length that you will require.
Length Measurement: Length of 4" round aluminum side tube Plus 2 feet
Width Measurement: Inside width of lower canopy rail on a centerline from left to right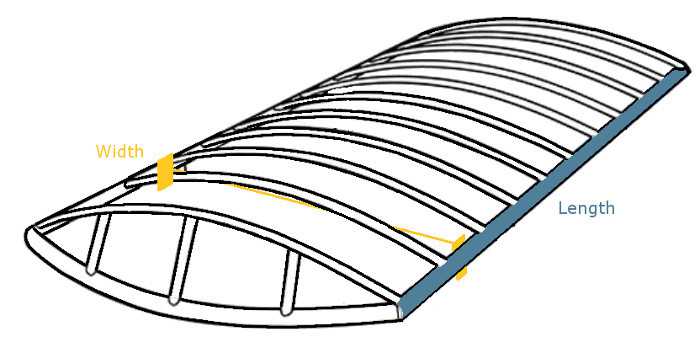 Open Box Product
Note: Occasionally products found and purchased on our website are returned by customers. Many times due to ordering error, or simply because they have changed their mind. Also, sometimes an open box item can be a display model or it is used for photography purposes.When an item has been returned or used for display, rather than returning the item back to the manufacturer we offer it as a "Open Box" item. Open box items are a great way to save a some money on a product that is in "Like New" condition. All items listed below have been discounted from the original price and have been examined and tested and have been found to be fully functional.
Open Box Items are Non-returnable
© 2015 BoatLiftandDock.com
SPECIFICATIONS
Manufacturer:
Shoretex Fabric Products
SKU:
STF-SHO22108-WM
Base Group
Product MPN:
SHO22108WM
General
Item Type:
Lift - Canopy Cover
REVIEWS
FAQ
You May Also Like These Items

1657 12th Street - Martin, MI 49070
Phone: 866-942-6349
Fax: 866-942-6349
E-Mail: info@boatliftanddock.com
Get Our Latest Product Updates and Offers!
© 2008 - 2018 BoatLiftandDock.com | All Rights Reserved